If you want to know about the staircase detail or toilet detail or miscellaneous detail, please click the link.
---
A service apartment, also known as a serviced apartment, is a type of furnished apartment that is available for short-term or long-term rental.
These apartments are typically managed by a professional property management company and come equipped with amenities such as housekeeping, laundry service, and 24-hour front desk service. They are often used by business travelers, expats, and people in between permanent housing arrangements.
Service apartments are generally more expensive than traditional apartments, but they provide a higher level of comfort and convenience.
Image of service apartment (working drawing) and downloadable (in DWG) link below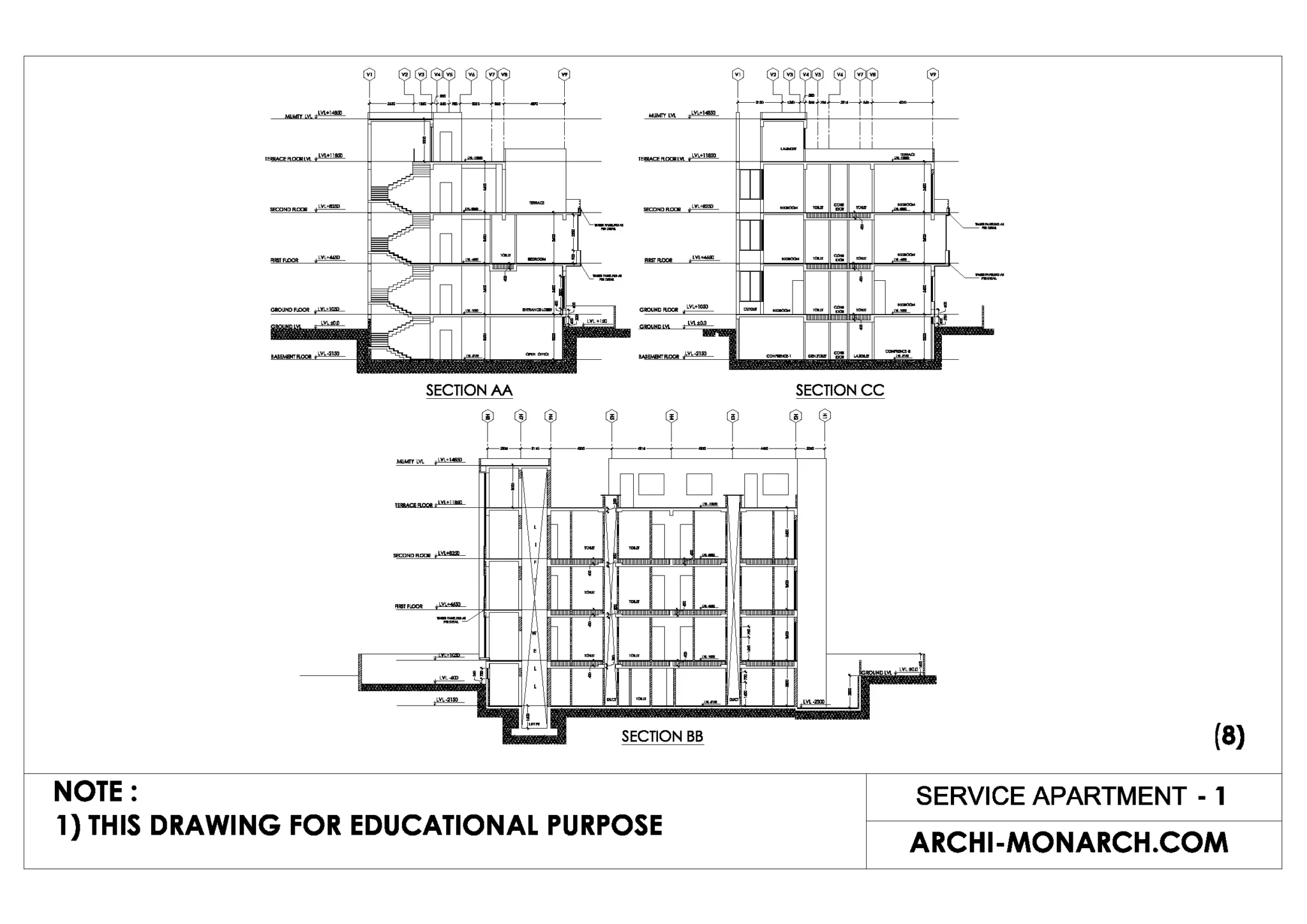 Working drawing of service apartment – 1
A service apartment detail working drawing is a technical drawing that shows the specific details of a service apartment's design, layout, and construction. These drawings typically include floor plans, elevations, sections, and details of the various systems and components of the building, such as electrical, plumbing, HVAC and other mechanical systems.
They also include specifications for materials, finishes and equipment. These drawings are used by architects, engineers, contractors and other construction professionals to ensure that the service apartment is built according to the design intent and meets all building codes and regulations. It also helps to ensure that the final product meets the needs and expectations of the client or tenant.
Service apartment detail working drawings typically include detailed information about the layout of each room and common area, including the placement of doors, windows, and built-in fixtures such as cabinets and closets. They also include information about the flooring, wall finishes, and ceiling treatments in each space.
In addition, the drawings will show the location of electrical outlets, light switches, and other electrical fixtures, as well as the placement of plumbing fixtures such as sinks, toilets, and shower or bathtub areas.
The drawings will also include detailed information about the mechanical systems in the building, including the HVAC system, ductwork, and ventilation. They may also include information about the building's fire protection systems, such as sprinklers and smoke detectors.
Additionally, service apartment detail working drawings may also include information about the building's exterior, including the materials used for the facade and any balconies, terraces, or other outdoor spaces. They may also include information about the landscaping and hardscaping around the building.
It is important to note that these drawings are not only used during the construction process, but also for the maintenance and operations of the building. It is a valuable document for the owner and the tenant as well.
---
Our tips to help you improve your architectural service apartment (working drawing) detailing.
---
---
Purchase (Service apartment) link below for download