If you want to know about the office building working one or toilet detail or miscellaneous detail, please click the link.
---
In architecture, an office building is a type of commercial building that is designed to provide spaces for work and business activities. Office buildings typically feature a combination of private offices, open work areas, and common spaces such as conference rooms, lobbies, and restrooms. They are often multi-story structures, with elevators and staircases providing access to the upper floors.
Office buildings can be designed in a variety of architectural styles, from traditional to modern, and can be constructed using a variety of materials such as steel, concrete, and glass. Many modern office buildings also incorporate sustainable design elements such as energy-efficient systems, natural light, and green roofs or terraces.
Office buildings also have to comply with building codes and regulations, such as accessibility and fire safety, and also have to consider the functionality and efficiency of the space, such as the circulation, the access to natural light and the flexibility of the space for different uses.
In recent years, the trend towards open and collaborative workspaces has led to a shift in the design of office buildings, with more emphasis on creating flexible, adaptable spaces that can accommodate a variety of work styles and activities.
Image of office building (working drawing) and downloadable (in DWG) link below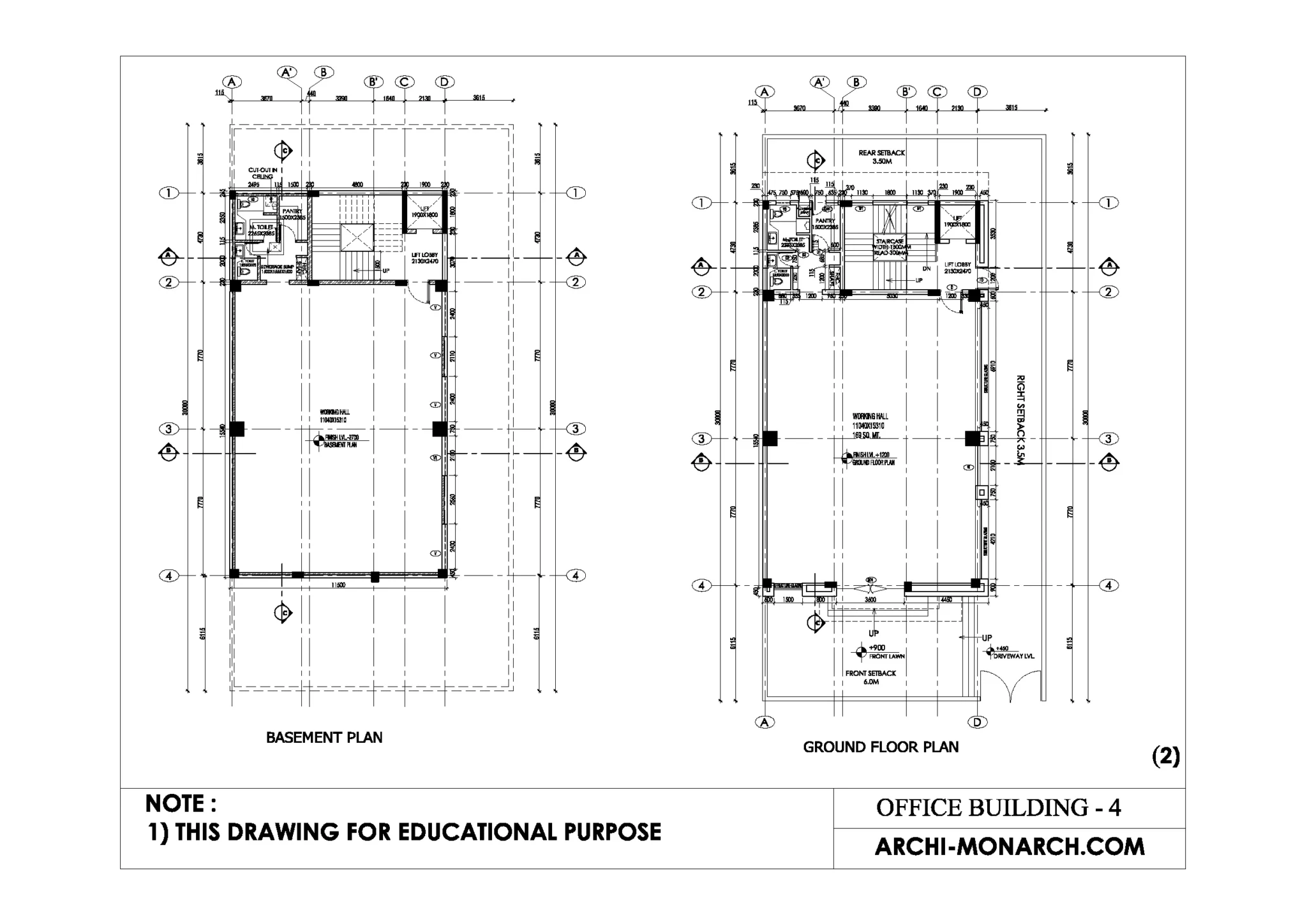 Working drawing of office building – 4
Working drawings for an office building are a set of technical drawings that provide detailed information about the design and construction of the building. They are used by architects, engineers, and builders to communicate the design intent and construction requirements of the project.
Working drawings typically include floor plans, elevations, sections, and details that provide information on the layout and dimensions of the building, as well as the location and sizes of the structural elements, mechanical systems, and building finishes.
They also include electrical, plumbing and HVAC systems, and will have details of the elements like door, window and wall construction.
Working drawings also include information on building codes and regulations that must be followed during construction, as well as any special requirements or constraints that must be considered during the design and construction process.
---
Our tips to help you improve your architectural office building (working) detailing.
---
---
Purchase (Office building) link below for download