A manhole cover is a removable plate that is used to cover an opening in the ground that leads to an underground utility or service. Manhole covers are typically made of metal or concrete and are used to access underground utilities such as sewage and water pipes, electrical cables, and gas lines.
They are designed to be strong and durable, and are typically round or rectangular in shape. Manholes covers are typically located in streets, sidewalks, and other public areas, and are usually marked with the name of the utility or service that they provide access to.
Manholes covers are important for public safety because they provide a way for maintenance workers to access and repair underground utilities. They also help to prevent accidents and injuries by providing a barrier between people and the underground utilities.
If you want to know about the kitchen detail or staircase detail or water tank detail, please click the link above.
Image of manholes cover detail and downloadable (in DWG) link below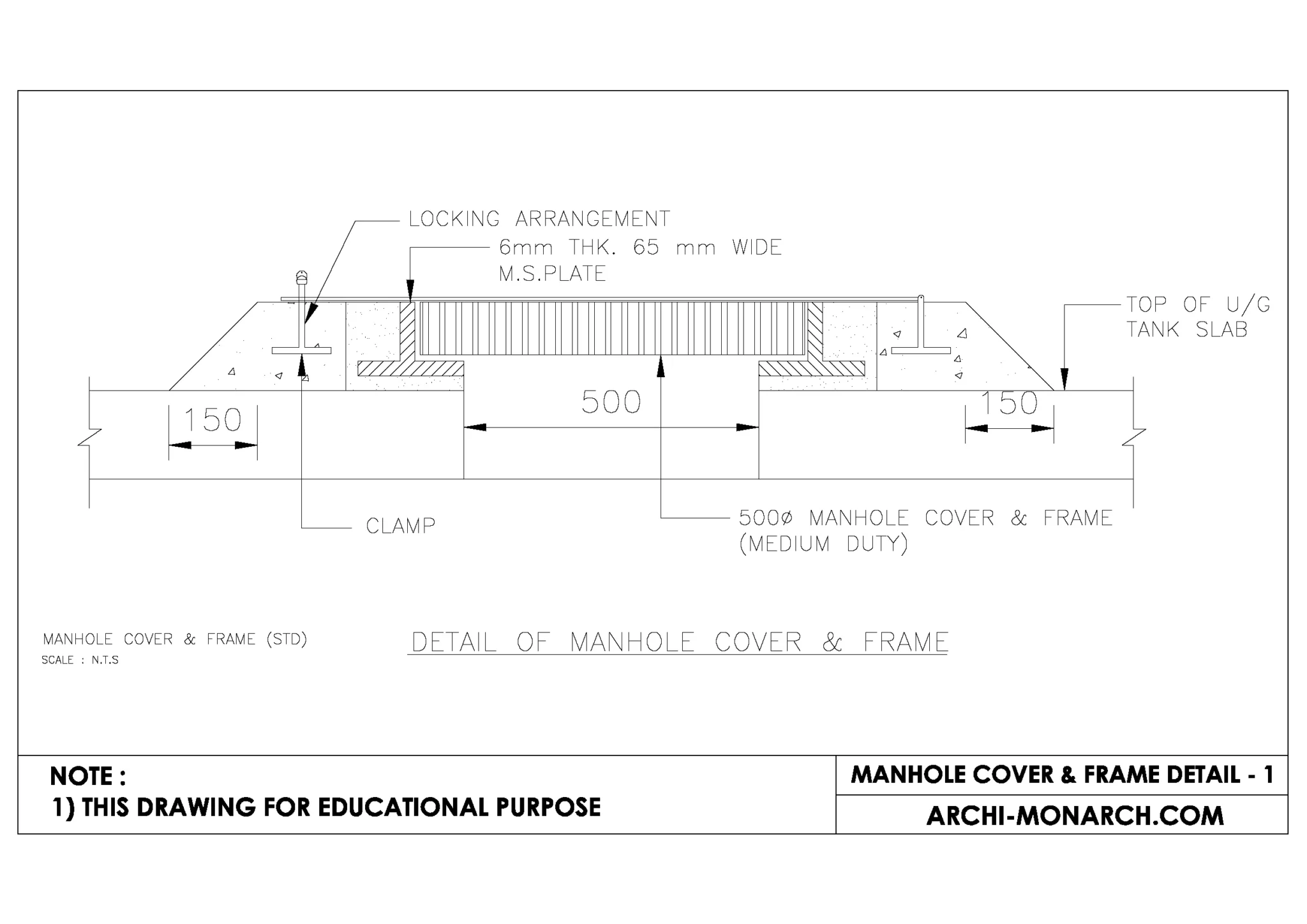 Manholes cover detail drawing – 1
A manholes cover detail drawing is a technical drawing that shows the details of a manhole cover and its various components. This type of drawing typically includes dimensions, materials, and other important information about the manhole cover. It may also include details about how the manhole cover is installed and maintained.
The purpose of a manholes cover detail drawing is to provide information about the design and construction of the manholes cover to engineers, contractors, and other professionals who may be involved in the installation or maintenance of the cover. Detail drawings are often used in construction projects to ensure that all necessary components are included and that the cover is installed correctly.
A manholes cover detail drawing may include the following information:
Dimensions of the manhole cover and its components
Materials used in the construction of the manhole cover
Weight and load-bearing capacity of the manhole cover
Installation instructions and details
Maintenance requirements
Any special features or considerations, such as watertightness or resistance to corrosion
Any relevant standards or codes that the manhole cover must meet
The specific details included in a manholes cover detail drawing will vary depending on the needs of the project and the requirements of the local jurisdiction.
---
Our tips to help you improve your architectural manhole cover detailing.
---
---
Purchase (manholes cover detail) link below for download